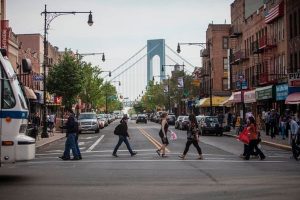 Bay Ridge has always been a desirable and prosperous neighborhood due to its location, diversity, and vibrant architecture. It offers spectacular waterfront views and easy access to Manhattan, Staten Island, and New Jersey. The community was created by waves of immigrants settling here over the decades. The neighborhood's well-organized layout, with convenient public transportation, makes it very commuter-friendly. The commercial districts provide a huge variety of shopping and dining options. Bay Ridge is surrounded by parks and playgrounds, including one of the oldest golf courses in New York City, the Dyker Park Golf Course. The adjoining 216-acre Dyker Park offers waterfront views, soccer and baseball fields, tennis and bocce courts, scenic walks, and many other amenities.
Bay Ridge is also famous for its excellent schools, both public and private. The Fort Hamilton High School was once an exclusive upper-class club. Today, its classic architecture and landscaped grounds serve as a backdrop to its academic excellence. Schools like Polytech Prep and the High School of Telecommunications offer diverse curriculums that focus on excellent technical knowledge as well as the development of character. The Xaverian High School offers one of the few International Baccalaureate programs in NYC. These are just a few examples of the academic powerhouses that contribute to Bay Ridge's economic and cultural prominence.
One of the many advantages of living in Bay Ridge is that if you want a great night out, you don't need to go too far. Hundreds of restaurants serve up an astonishing variety of European and Mediterranean cuisines. From traditional Italian and Greek restaurants to daring Asian Fusion, from classic diners to specialty bakeries, this neighborhood is a gourmet's paradise. In addition, the nightclubs, lounges, coffee shops, comedy clubs, and jazz bars provide entertainment options for every lifestyle. Another reason for Bay Ridge's popularity is the sheer size and variety of its shopping districts, located along 3rd, 4th, and 5th Avenues, as well as 86th Street and Bay Ridge Parkway. Department stores, farmer's markets, specialty food shops, factory outlets, and many other types of commercial establishments offer an enormous range of goods and services.
The architecture of Bay Ridge deserves a special mention. Few other neighborhoods can boast such variety – ranging from turn-of-the-century to the 1970′s, from ornate apartment buildings to stately mansions on the waterfront, and featuring dozens of styles, the diversity of Bay Ridge's architecture is staggering. Tree-lined side streets showcase the limestones and Victorian townhouses, and the avenues are filled with exquisitely detailed pre-war apartment buildings. Bay Ridge is also home to the unusual "step streets", cobblestone-paved streets, and other unique gems of Brooklyn architecture and history.
The public transportation setup of Bay Ridge, as well as two major highways, makes it extremely convenient to commuters. The R subway line connects 4th Avenue to the Atlantic Avenue hub in Downtown (with its 11 lines and LIRR), and bus routes (including express buses to Staten Island and Manhattan) cover the rest of the neighborhood.