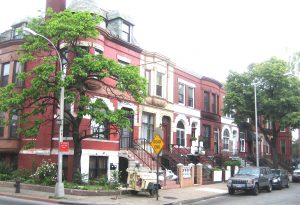 Bedford-Stuyvesant is located in the north/central part of Brooklyn. The neighborhood is bordered by Clinton Hill to the east (Classon Avenue), Prospect Heights and Crown Heights to the south (Atlantic Avenue), and Bushwick to the north-east (Broadway).
Bed-Stuy holds the largest inventory of brownstones in all of Brooklyn – over 50% more than Park Slope. Prices are much lower than in other Downtown Brooklyn neighborhoods, and many buildings feature unique original details, such as hand-carved mouldings, multiple fireplaces, and high ceilings, that make them extremely attractive to buyers looking for a bargain they can restore to its full glory. The neighborhood's proximity to Manhattan's Financial District (only 15 minutes away by train) makes it a great alternative for Manhattanites looking to expand their options beyond overpriced SoHo and overpopulated Lower East Side.
The neighborhood's reputation over the past 3 decades has kept buyers away, and prices low. However, crime fell over 64 percent from 1993 to 2003, and the decline continues steadily. Police efforts to curtail street violence have shown significant results, and the Bed-Stuy community has redoubled efforts to bring about positive changes. Bed-Stuy is no longer a "combat zone", as Billy Joel called it in his 1980 hit "You May Be Right". The Bedford-Stuyvesant of today has all the makings of "the next hot neighborhood" – excellent inventory, low prices, convenient location, many transportation options, and a community eager for rebirth.
One of the neighborhood's distinguishing characteristics is the variety of shopping and dining venues it offers. With the renewed interest in the community, national franchises and individual entrepreneurs alike have opened up outlets in Bed-Stuy. Sparse fast-food joints are being replaced by a crowd of quality multi-ethnic eateries, specialty bakeries and health-food stores.
Commuters will find it easy to get into, out of, and around the neighborhood. Over a dozen bus lines, as well as 3 subway lines, serve Bed-Stuy. The A/C train runs along the neighborhood's southern edge, the J/M/Z line crosses the eastern part of Bed-Stuy, and the G train connects north-west Bed-Stuy residents to the rest of Downtown as well as Williamsburg. Only a couple of stops away, the Atlantic-Pacific hub offers a confluence of 11 train lines, another dozen or so buses, and access to the LIRR. Drivers will appreciate the proximity to 3 bridges (Manhattan, Brooklyn, and Williamsburg), as well as avenues that offer a direct path to other areas of Brooklyn.
Another reason for Bed-Stuy's newfound popularity is its proximity to the 585-acre Prospect Park and the Grand Army Plaza complex. The park offers a selection of nature-related activities, its own 114-acre forest and a 90-acre meadow, as well as a complete sports & entertainment complex. The plaza complex includes the Brooklyn Museum of Art, the main building of the Brooklyn Public Library, several subway stops, and convenient shopping areas. In nearby Fort Greene, the namesake park offers another 30 acres of green space for Bed-Stuy and Clinton Hill residents, and Williamsburg's McCarren park is famous for its giant pool and outdoor concerts.