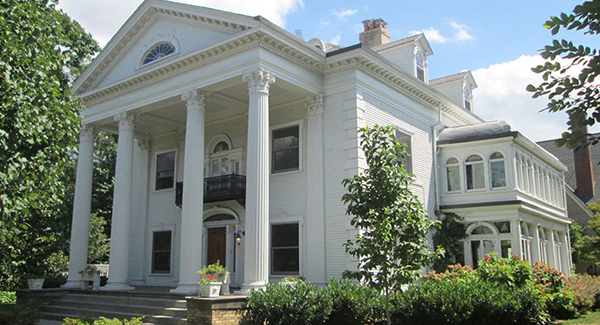 Ditmas Park is located immediately southeast of Prospect Park. One of three Historic Districts of Flatbush, Ditmas Park is filled with freestanding Victorian houses and towering elm trees. The neighborhood borders Prospect Park South to the north (at Church Avenue), Flatbush proper to the east (at Ocean Avenue), Midwood to the south (at Avenue H), and Kensington to the west (at Coney Island Avenue).
Ditmas Park's convenient location, impressive inventory of charming 19th-century Victorian houses, and almost-suburban tranquility make it one of the most desired neighborhoods of Victorian Brooklyn. Since the entire neighborhood has been landmarked as a historic district, new construction is virtually non-existent, and any renovation must follow strict standards of quality and appearance.
Although the feeling here is of remote suburbia, the commute to Manhattan is surprisingly short. The X29 express bus runs along Coney Island Avenue, the neighborhood's western boundary, while the B express train at Church Avenue provides a traffic-independent alternative.
Ditmas Park residents also enjoy the convenience of the 2, 5, F, and Q trains, and 9 local bus lines (B6, 8, 11, 16, 23, 35, 49, 68, and 103). Auto-commuters aren't left out, either, with the multi-lane Coney Island Avenue, as well as Ocean, Bedford, and Church Avenues providing direct paths to Downtown, the south shore, and other parts of Brooklyn.
With the post-millennium generational shift, many Manhattanites realized that Brooklyn offers incredible values, especially in neighborhoods like Ditmas Park. Architectural gems situated on lots up to 200 feet deep could be had for about the same price as a 1-bedroom East Village condo.
Another reason this neighborhood is highly prized is its proximity to Prospect Park and Green-Wood Cemetery. The 585-acre Prospect Park includes a 114-acre forest and a lake with a 90-acre meadow (largest urban-park meadow in the nation). The park's recreational complex offers athletic equipment and fields, community events, free concerts and tours, and much more. Located within the park's grounds is the Brooklyn Botanic Garden, its 52-acre expanse filled with over 10,000 species of plants. The Grand Army Plaza complex, Prospect Park's majestic main entrance, includes landmarks such as the Brooklyn Museum of Art and the main location of the Brooklyn Public Library.
To the west of Ditmas Park, the 478-acre Green-Wood Cemetery offers over 20 miles of walking paths and rolling hills, as well as stunning views of the harbor. Brooklyn's highest point, Battle Hill, is located on the cemetery grounds. The Brooklyn College campus, judged to be the best-looking college campus in Brooklyn, is located in the southeast part of Ditmas Park. The college adds an important economic and cultural dimension to the neighborhood, as well as giving South Ditmas Park residents the opportunity to enjoy its grounds and recreational facilities.
The neighborhood's commercial districts lay along Coney Island, Church, and Ditmas Avenues, as well as Cortelyou and Beverley Roads. In recent years, upscale restaurants and specialty food vendors have moved into the neighborhood, including TB Ackerson Fine Wine Merchant, The Farm on Adderley, the Picket Fence, and Park Slope's original ice-cream-and-candy purveyor, Rapper's Delight. One popular NYC magazine even wondered whether Ditmas Park is becoming the "New Center of the Food Universe".
The Ditmas Park community is a fine example of Brooklyn's tolerance for differing faiths and cultures. Dozens of nationalities and lifestyles co-exist peacefully, and work together to preserve the historic character of the neighborhood while developing new options for living, education, and recreation. Ditmas Park residents are famous for unique projects like creating a communal loan in order to bring desirable businesses into the area, restoring and decorating neighborhood landmarks, and many other activities that showcase the incredible level of trust and co-operation of this one-of-a-kind community.

Sorry we are experiencing system issues. Please try again.