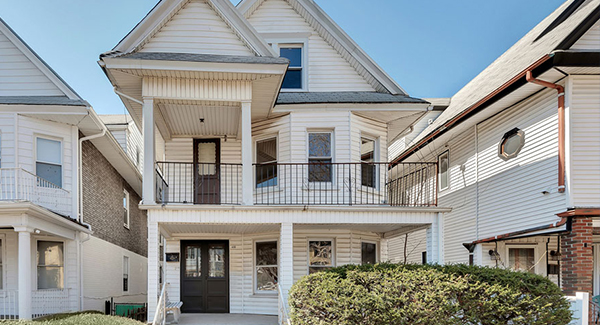 Kensington is located in Brooklyn's central part, just southeast of Green-Wood Cemetery. Kensington borders Windsor Terrace to the north (at Caton Avenue), Ditmas Park to the east (at Coney Island Avenue), Midwood to the south (at Ditmas Avenue), and Boro Park to the west (at Dahill Road).
Being located at one of Brooklyn's historical and cultural cross-roads, Kensington is a diverse mix of architectural styles and cultures. Ocean Parkway divides Kensington into two sections, with large apartment buildings along both sides of the thoroughfare. Part of Ocean Parkway, originally designed as a graceful extension of Prospect Park's grandeur, is named as a historic New York City landmark. On the residential side streets, the neighborhood features rows of brick and brownstone homes, larger one- and two-family detached homes with wraparound porches and large yards, and prewar and postwar houses that are five or six stories high.
Although not as close to the East River crossings as the Downtown neighborhoods, the commute to Manhattan is helped by the X29 express bus along Coney Island Avenue, and the F subway line along McDonald Avenue. In addition, the D/M and the Q/B lines are only a few blocks away, and 9 local bus lines (B6, 8, 11, 16, 23, 35, 67, 68, and 103) serve the neighborhood.
One of the advantages of living in Kensington is being close to the 478-acre Green-Wood Cemetery and the 585-acre Prospect Park complex. The historic cemetery offers over 20 miles of walking paths and rolling hills, as well as stunning views of the harbor. Brooklyn's highest point, Battle Hill, is also located on the cemetery grounds.
The 585-acre Prospect Park includes a 114-acre forest and a lake with a 90-acre meadow (largest urban-park meadow in the nation). The park's recreational complex offers athletic equipment and fields, community events, free concerts and tours, and much more. Located within the park's grounds is the Brooklyn Botanic Garden, its 52-acre expanse filled with over 10,000 species of plants. The Grand Army Plaza complex, Prospect Park's majestic main entrance, includes landmarks such as the Brooklyn Museum of Art and the main location of the Brooklyn Public Library.
One of the attractions in the community is Kensington Stables (51 Caton Place, on the border of Windsor Terrace). The stable offers boarding, riding lessons, and trail rides in Prospect Park on a 3.5-mile bridle path through scenic and varied terrain.
Kensington's unique combination of tranquility and conveniences, wide variety of housing stock, multiple transportation routes, and location right next to major natural resources with plenty of recreational options, make it an attractive choice for many buyers.
The neighborhood's shopping areas are located along Coney Island and Church Avenues, as well as the McDonald Avenue/18th Avenue intersection. Nearby Park Slope offers hundreds of additional shopping destinations, including the famous 5th Avenue and 7th Avenue "Restaurant Row" and commercial corridors, as well as the giant Atlantic Terminal Mall with over 50 stores.
Sorry we are experiencing system issues. Please try again.