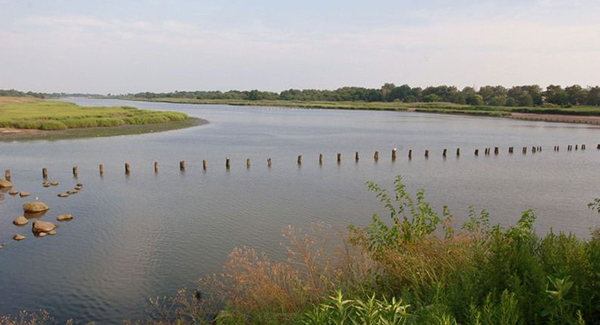 Marine Park is located in the southeast part of Brooklyn, north of Sheepshead Bay and southwest of Old Mill Basin. The neighborhood is bordered by Flatlands Avenue to the north, Avenue U to the south, Flatbush Avenue to the northeast, and Gerritsen Avenue to the southwest.
Marine Park is home to Brooklynÿs largest green space – the 798-acre Marine Park complex. The park includes a golf course, sports equipment for every type of activity (including cricket and bocci), a modern playground, and water activities.
Marine Park housing is predominantly composed of semi-detached one-family wood-frame homes, although plenty of fully detached brick townhouses exist. High-density and/or high-rise apartment complexes are virtually non-existent. With tree-lined streets, no subway lines, and few cars, Marine Park is an oasis of suburbia on the southeast Brooklyn shore. Kids play in the streets, and residents stop to chat with neighbors.
The areaÿs shopping destination is the Kings Plaza, NYCÿs first indoor mall, a 1.1-million-square-foot facility that houses over 150 shops, a multiplex movie theater, its own marina, and serves as the starting point for 7 bus lines. Thriving commercial strips lay along the boundary avenues (Flatlands, Flatbush, and Gerritsen Avenues, as well as Avenue U). Marine Park offers residential tranquility without sacrificing the convenience of shopping and gourmet dining.
Just south of Marine Park, the Emmons Avenue waterfront in Sheepshead Bay includes dozens of restaurants and shops, as well as fishing from charter boats. Nearby Old Mill Basin is home to the famous Old Mill Basin Kosher Deli, often said to be the best in Brooklyn.
Commuting to and from the neighborhood is easy, thanks to several bus lines and highway access. The B2, B3, and B100 bus lines bring Marine Park residents to the Q/B subway line (the B3 also goes to Bensonhurst/F train), the B82 goes to the busy Canarsie commercial district and the L train terminal, and the B44 takes you directly to Emmons Avenue. The remaining bus lines (B7, B9, B41, B46) provide a connection to many other area destinations, including the Kings Highway shopping district. Flatbush Avenue is a direct route to the heart of Downtown Brooklyn, and the Belt Parkway provides access to Queens, S.I., and Manhattan.
Marine Park schools include P.S. 222, grades Pre-K through 5, which consistently outperforms the city average – by as much as a 16% margin! The public schools are supplemented by dozens of yeshivas, private academies, and Catholic schools, located in the neighborhood and nearby Sheepshead Bay and Old Mill Basin. The diverse school system, the abundance of parks and playgrounds, and the tranquility of the neighborhood, make it very attractive to family-oriented buyers.
Sorry we are experiencing system issues. Please try again.