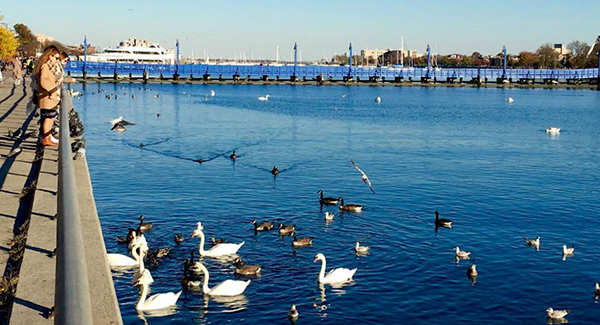 Sheepshead Bay is located in the southeast corner of Brooklyn, next to Gravesend and Marine Park. It stretches from the Emmons Avenue waterfront north to Avenue T, and from Knapp Street to Coney Island Avenue. Sheepshead Bay includes the smaller neighborhoods of Gerritsen Beach and Plumb Beach.
The neighborhood was settled after the Civil War, when visitors from the City discovered this pastoral village-by-the-sea, with cool ocean breezes and great seafood. By the 1870′s, the area was a bustling beach community, with several hotels, its own racetrack, and many restaurants. Modern Sheepshead Bay retains much of its charm, and visitors from around the Tri-State Area come down to stroll along the bay, shop and dine on Emmons Avenue, and go fishing on charter boats.
Sheepshead Bay offers a healthy mix of low-rise townhomes and high-density apartment complexes. One- and two-family semi-detached houses predominate in this quiet residential neighborhood, with some detached brick townhomes located throughout the area. Along the avenues, especially on major intersections, 6- to 7-story apartment complexes offer affordable housing located conveniently close to shopping and transportation.
The neighborhood's shopping destination is the Kings Plaza Mall, a 1.1-million-square-foot facility that houses over 150 shops, a multiplex movie theater, its own marina, and serves as the starting point for 7 bus lines. Thriving commercial strips lay along every north-south avenue (Coney Island, Bedford, Nostrand, Ocean, and Homecrest Avenues, as well as Knapp Street), and most east-west avenues. Sheepshead Bay offers residential tranquility along the tree-lined side streets, without sacrificing the convenience of shopping and gourmet dining along the avenues.
Sheepshead Bay is located next to the gigantic (798 acres) Marine Park complex, with the Floyd Bennett Field and the Gateway National Recreation Area within a 10-minute ride. Several smaller parks are strategically placed throughout the area, giving residents plenty of space to relax and play sports. The Emmons Avenue and Knapp Street waterfront areas are popular spots as well, especially in the summer.
Just south of Sheepshead Bay, the communities of Coney Island, Seagate, Brighton Beach, and Manhattan Beach offer miles of sandy beaches, many amusements, and a selection of multi-ethnic restaurants and shops. Coney Island's Keyspan Park is home of the Brooklyn Cyclones, New York Mets' minor-league team.
Commuting to and from the neighborhood is easy, thanks to dozens of bus lines criss-crossing the area, as well as the Q/B subway line. The Belt Parkway provides direct access to Queens, Staten Island, and Manhattan, and the major avenues lead directly to the heart of Brooklyn Downtown, and the south-shore neighborhoods.
Sheepshead Bay includes a complete selection of schools, from Pre-K through college. Public schools are supplemented by dozens of yeshivas, private academies, and Catholic schools. The main campus of Touro College is located in nearby Bensonhurst, and CUNY's Kingsborough College is right across the bay, in Manhattan Beach. The diverse, highly-rated school system, the abundance of parks and playgrounds, and the neighborhood's many amenities make it very attractive to family-oriented buyers.
Sorry we are experiencing system issues. Please try again.