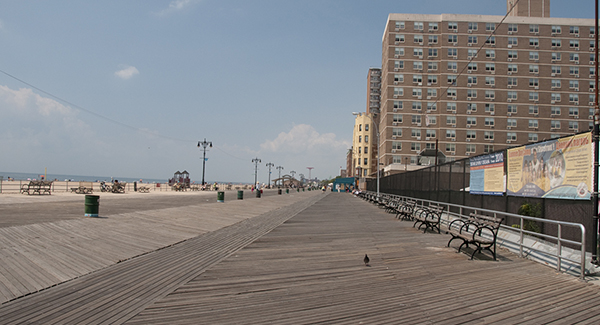 Brighton Beach is located in the southernmost part of Brooklyn, in the middle of Coney Island peninsula (formerly an island, filled in for the construction of the Belt Parkway before World War II). The neighborhood borders Coney Island to the west (at West 5th Street), Manhattan Beach to the east (West End Avenue), Gravesend to the north (Belt Parkway), and the Atlantic Ocean to the south (Riegelmann Boardwalk).
Brighton Beach was developed as a beach resort in the late 1800′s, and takes its name from a large hotel that was named for the British resort town of Brighton. After the completion of the BMT Brighton Line (better known as the Q and B trains), and the Ocean Parkway (featuring the nation's first highway-integrated bike path), the neighborhood's popularity exploded. True to its roots as a resort community, Brighton's architecture is a mix of private houses and large condominium and co-op towers. Oceanside developments offer a variety of units, from economical studios to stunning multi-bedroom penthouses with direct ocean views, located in prestigious full-service complexes. Inland Brighton features single-family frame houses along the side streets, with brick mixed-use buildings along the avenues.
Since the 1900′s, Brighton Beach has been famous for its nightlife and entertainment venues. From performances of John Philip Sousa's band and the first Yiddish vaudeville theater in the 1930′s, to the lavish nightly extravaganzas in the National and the Oceana Theater of today, Brighton's tradition of fostering art and culture – no matter where that culture had emigrated from – remains strong to this day.
Brooklyn is unlike any other place on Earth, and Brighton Beach is unlike any other neighborhood in Brooklyn. Where else can you find such contrasts and synergies – synagogues and an Islamic Center on Neptune Avenue, Russian and Chinese books sharing shelf space in bookstores, Ukrainian and Pakistani cafes on the same block? Brighton Beach seems to be the epitome of coexistence, many cultures sharing space and learning from each other, contributing to the great matrix of Brooklyn's 180-plus nationalities.
Of course, the dining experience in Brighton is as diverse and surprising as its community. Whether you're looking for authentic Brooklyn-style knishes (Mrs. Stahl's Knishes and Mediterranean Food), sushi and French specialties (Passage Restaurant & Sushi), real Russian cuisine (Arbat Café), hearty Ukrainian platters (Café Glechik), or shish-kabobs, che-bourekas, and other Middle Eastern specialties, you can find it in Brighton Beach.
Amusements and great food aren't the only reason to live in Brighton. Sandy beaches, fresh ocean air, and several parks are the deciding factors for dozens of buyers every year. The Brighton Playground, located at Brighton 2nd Street and the Boardwalk, has undergone a 1.053-million-dollar renovation recently, and features basketball courts, handicapped-accessible game equipment, picnic areas, and many other amenities. Decorated with marine-inspired motifs and surrounded by Japanese cherry trees and rose shrubs, the Playground is an oasis of tranquility and beauty with an excellent view of the ocean. On the other side of the neighborhood, the New York Aquarium and Seaside Park serve as a year-round weekend destination.
Like Coney Island, Brighton is very accessible by car as well as public transportation. The Q and B train runs through the middle of the neighborhood, connecting Brighton residents to the Coney Island depot and thence to the D, F, and N train lines. In addition, 5 local bus lines (1, 4, 36, 49, and 68) serve the neighborhood. Shore Parkway (Belt Parkway's south-central section) provides a direct route to Manhattan, Staten Island, and JFK airport, while Ocean Parkway, Coney Island Avenue, and Ocean Avenue are among the fastest ways to reach central Brooklyn.
As you can see, Brighton Beach is a neighborhood "like no other", offering many attractions and conveniences. Beautiful scenery enhanced by parks, multi-cultural community and excellent dining & entertainment options, a selection of housing to fit every budget, and great transportation options make this neighborhood a great choice for would-be Brooklyn residents.

Sorry we are experiencing system issues. Please try again.