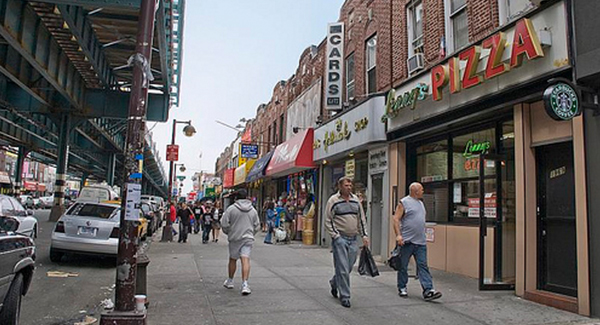 Bensonhurst is located in the southwest part of Brooklyn, just north of Coney Island and between Bay Ridge and Sheepshead Bay. Stretching from 11th Avenue to 25th Avenue, and from Gravesend Bay northward to 60th Street, it is generally considered to include the neighborhoods of Bath Beach, Dyker Heights, and New Utrecht.
With a history starting in the 1880′s and development continuing today, Bensonhurst offers a variety of housing types and styles – from classic brownstone rows to cozy detached 2-story townhomes and multi-unit apartment buildings. It's also home to several major shopping areas, including the famous 86th Street and Bay Parkway.
Bensonhurst is a gourmet's paradise, with hundreds of restaurants representing dozens of world cuisines. The recent influx of Asian- and Russian-Americans who have chosen to call "The Gateway to Coney Island" their new home, has contributed an even greater variety of eateries and cultural establishments. The Bensonhurst community represents the best of Brooklyn values – incredible diversity, fierce pride, creativity and passion. Every year, thousands flock to the feast in honor of St. Rosalia, one of the patron saints of Sicily, and the "Ragamuffin Parade", a unique freestyle event that showcases the talents of over 3,000 Brooklyn kids. You haven't seen a parade until you've seen a Bensonhurst parade – and the Superbowl & World Cup block parties? Fuhgeddaboutit!
For those who like to enjoy life's quieter moments, Bensonhurst's Seth Low Park and the 17.5-acre Bensonhurst Park (with sports equipment and a safety-enhanced playground) offer plenty of space and attractions for adults and kids alike. On the western side, the gigantic 216-acre Dyker Beach Park and the Dyker Heights Golf Course provide even more green space. There are also several playgrounds and "triangle parks" sprinkled throughout the neighborhood.
Just south of Bensonhurst, the shorefront communities of Coney Island, Seagate, Brighton Beach, and Manhattan Beach offer miles of sandy beaches, many amusements, and a selection of multi-ethnic restaurants and shops. Coney Island's Keyspan Park is home of the Brooklyn Cyclones, New York Mets' minor-league team.
Commuters will appreciate convenient access to Shore Parkway, Bay Parkway, Bay Ridge Parkway, and several other major highways. Public transportation is provided by four subway lines (D, F, M, and N), as well as 11 bus lines (1, 3, 6, 8, 9, 23, 64, 70, 82, X28, and X38). The X28 and X38 express buses reach lower Manhattan in about 45 minutes.
Bensonhurst schools offer a complete spectrum of education, from pre-K through high school. The main campus of Touro College is located here as well, and CUNY's Kingsborough College is only minutes away. The neighborhood's school network includes over a dozen elementary schools and three high schools, all with test scores on par or above average – and improving steadily. The diverse school system and the abundance of parks and playgrounds, all contribute to making it extremely attractive to family-oriented buyers.
Sorry we are experiencing system issues. Please try again.