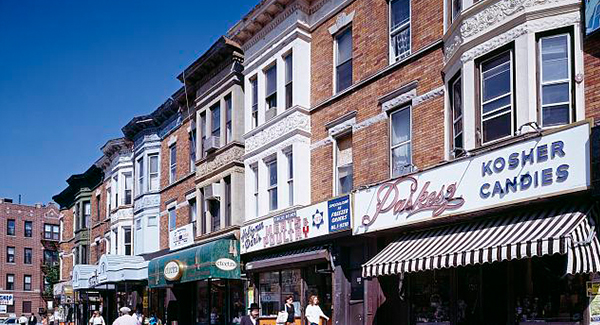 Boro Park (or "Borough Park") is located in the southwest part of Brooklyn. The neighborhood is bordered by: Green-Wood Cemetery to the north, Sunset Park to the west (8th Avenue), Dyker Heights & New Utrecht to the south (60th Street), and Kensington to the east (Dahill Road).
The neighborhood's steady population growth, healthy economy, and strong community make it an attractive area for builders and investors, ensuring a continued course of renovation and new development.
Boro Park has all the advantages of suburbia, and all the conveniences of city life. Quiet side streets, wide promenades, plenty of green space, and near-absence of automobile traffic on Fridays and Saturdays create an oasis of peace in the middle of a metropolis. Along the avenues, busy shopping districts supply the residents with an amazing selection of goods and services, and 4 subway lines along with 7 bus lines make getting around the neighborhood a breeze.
Boro Park is home to many cultural, religious, and community centers. The world headquarters of the Bobover sect is located on 48th Street between 14th and 15th Avenues, and the largest modern Orthodox synagogue is on 15th Avenue as well. Over 300 synagogues, 50 yeshivas, and dozens of community facilities provide Boro Park residents with programs and resources for recreation, health, and education. One of such community cornerstones, the Boro Park YM-YWHA offers an amazing lineup of events and resources, including film festivals and children's programs. Another important landmark is the Maimonides Medical Center, one of NYC's premier healthcare complexes.
Boro Park is a shopper's paradise, with hundreds of stores lining its commercial corridors. The 13th Avenue commercial district offers a wide range of products and services that's finely tuned to the specific needs of the community, as well as being well-organized. Boro Park shopping rivals Manhattan's famous Canal Street district and even Bay Ridge's amazing 86th Street. Visitors from all over the NYC Metro Area come here to take advantage of the variety, find unique items, and experience the delicacies of the myriad kosher delis and specialty bakeries.
Public transportation in Boro Park is provided by the F train along its eastern edge, the D/M line running diagonally through the middle of the neighborhood, and the N train along its southern border. Nine local bus lines (B8, 9, 11, 16, 23, 35, 63, 67, and B70) and four express buses (X27, 28, 37, and X38) serve the area. In addition, Boro Park is conveniently close to the Brooklyn-Queens Expressway, as well as several major avenues that provide direct access to Brooklyn Downtown, the bridges, and South Brooklyn neighborhoods.

Sorry we are experiencing system issues. Please try again.