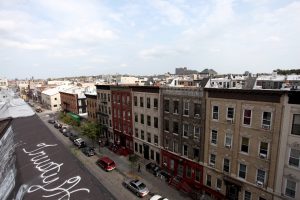 One of the original Six Towns of Brooklyn, the historic neighborhood of Bushwick is located in north-east Brooklyn. The neighborhood is bordered by Bed-Stuy to the southwest (Broadway), East Williamsburg to the northwest (Bushwick Avenue), Ridgewood (Queens) to the northeast and the Cemetery of the Evergreens to the southeast (Moffat Street). The neighborhood's name is the English version of the Dutch "Boswijck", meaning "town in the woods".
One of the attractive characteristics of the area is its diverse stock of housing. Single- and two-family houses, with a mix of brick and frame construction, compose the majority of Bushwick's residential inventory. Brownstone and limestone blocks can also be found, intermixed with beautifully detailed pre-war apartment complexes. Like neighboring Bed-Stuy, Bushwick offers plenty of bargains, and hundreds of restoration opportunities.
During the late 19th century, prominent public figures and successful businessmen had commissioned lavish mansions along Bushwick and Irving Avenues, many of which are just waiting for the right person to come along and restore them to their full glory.
In addition to classic housing, many industrial buildings in Bushwick have been converted to loft-style condominiums, contributing even more options to the Bushwick housing supply.
Another reason for Bushwick's popularity is its strategic position relative to major highways, subway lines, and other transportation options. The Williamsburg Bridge, the Brooklyn-Queens Expressway, Myrtle Avenue, and other thoroughfares are all within easy reach. Bushwick is literally surrounded by subway lines – the J/Z to the southwest, the M line to the north, and the ever-popular L train to the east. In addition, the A/C and G trains are only a few blocks away.
Over a dozen local buses, including Queens-bound buses, serve the area. Commute time to Manhattan can be as short as 15 minutes via train, making this neighborhood a great choice for buyers who want to work in Manhattan but enjoy living in Brooklyn.
The quality of life in Bushwick has risen dramatically over the past few years, and continues to improve daily. Crime has fallen to historic lows (62% drop overall, up to 84% reduction in major crime categories – the best results in 13 years), and the community is stronger and more motivated than ever. Today's Bushwick is one of the hottest neighborhoods in Brooklyn, attracting businesses, investors, and residents from all over the NYC Metro area.
The neighborhood's main green-space is the 6.9-acre Maria Hernandez Park, located in the western part of Bushwick. The park features accessible playgrounds, basketball and bocce courts, and a softball field. On the other side of the neighborhood, the Evergreen Park boasts a bird sanctuary, an arboretum, renovated playgrounds, and many other amenities.