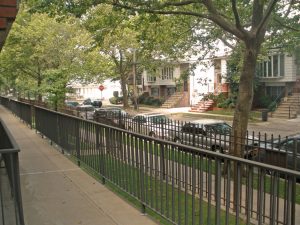 Canarsie is located in southeast Brooklyn, on a peninsula formed by the Paerdegat Basin and the Fresh Creek Basin. Canarsie borders Flatlands to the southwest (Ralph Avenue), Brownsville to the northwest (Ditmas Avenue), East New York to the northeast (East 108th Street), and the Jamaica Bay to the southeast.
The 132-acre Canarsie Park covers the waterfront. The park includes baseball diamonds, basketball courts, soccer and cricket fields, and other sports equipment. The park is one of several "gateways" to the Jamaica Bay Wildlife Refuge, the nation's largest wildlife preserve that's completely enclosed by city boundaries.
Canarsie housing blends together the best of Brooklyn architecture. Houses here run the gamut from detached Queen Anne Victorian townhomes to attached brick duplexes. Buyers can find just about everything here – single-family Waxman Splits, two- and three-family brick attached homes, Victorian frame homes, low-rise condo complexes, and more. The neighborhood offers a range of styles and prices that's hard to find anywhere else.
The Canarsie community is a great example of the spectrum of cultures that is Brooklyn. The history of the 360-year-old neighborhood, one of the oldest in the City, has witnessed waves of immigration from almost every point of the globe.
The neighborhood is home to famous churches and cultural centers, one of the nation's largest high schools (South Shore H.S., with over 6,000 students), historic synagogues, and many other cultural points of interest.
Like many Brooklyn neighborhoods, Canarsie's commercial districts lay along the major boundary streets – Ralph, Flatlands, and Seaview Avenues, Rockaway Parkway, Ditmas Avenue, and 108th Street. Nearby Kings Highway and Utica Avenue add their lineup to the giant selection of stores and service businesses.
Public transportation in Canarsie is provided by the L subway line and seven bus lines (B6, B17, B42, B60, B82, B83, and B103). The L train is a direct line to Williamsburg and Manhattan's popular Lower East Side, running across Midtown and terminating at 8th Avenue. According to MTA statistics, ridership on the L has increased significantly in the last couple of years, a testimony to the increased popularity of Canarsie and other neighborhoods along the L line.