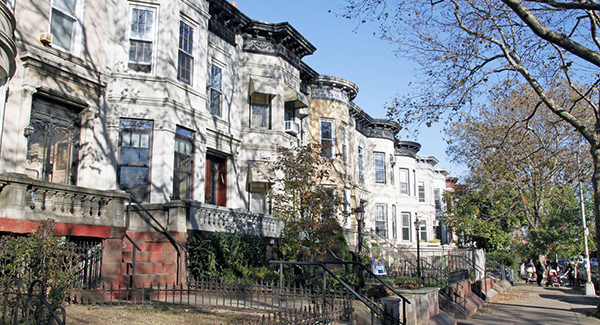 Crown Heights is located immediately east of the north half of Prospect Park. The neighborhood borders Bed-Stuy to the north (at Atlantic Avenue), Prospect Heights and the park itself to the west (at Washington Avenue), Wingate and Rugby to the south (at Clarkson Avenue), and Brownsville to the east (at Ralph Avenue).
Crown Heights achieved notoriety and fame in 1991 due to a multi-day riot, and it's impossible to mention the neighborhood without invoking thoughts of economic and racial tension. However, that was 15 years ago, and many things have changed. The Crown Heights of today is undergoing a series of improvements and new developments, by large-scale builders and individual bargain hunters in search of hidden brownstone gems.
Attracted by the neighborhood's relatively short Manhattan commute, and its proximity to Prospect Park as well as the library / museum / plaza complex, many bargain-hunters have found properties that could be purchased or leased at below market prices. Developers are busy converting several industrial and commercial structures into amenities-filled residential space. One famous example of the "new lease on life" process is the conversion of the abandoned Jewish Hospital of Brooklyn into residential units, turning four hulking buildings into useful housing for over 700 people.
While not as close to Manhattan as the "true" Downtown neighborhoods, Crown Heights offers much lower prices while keeping the commute time within reasonable limits. It's only a 10-minute drive (without traffic) from the northwest corner of Crown Heights (Atlantic & Washington Avenues) to Chinatown (Canal Street & Bowery), and only 15-20 minutes from the center of Crown Heights.
Crown Heights is also well-off in terms of public transportation. The 4 train lines (2, 3, 4, and 5) that cross the neighborhood along Eastern Parkway and Nostrand Avenue provide a direct link to the Atlantic-Pacific hub, with its 14 subway lines (2, 3, 4, 5, A, B, C, D, F, G, M, N, Q, and R), several bus lines, and Long Island Rail Road access. In addition, over a dozen local bus lines criss-cross the neighborhood in every direction – in Crown Heights, you won't have to walk more than 2 blocks to catch a bus.
Crown Heights is home to several cultural and civic landmarks. The Medgar Evers College (CUNY), located at Bedford Avenue & Crown Street, has an annual enrollment of over 5,000 students. Kings County Hospital, in south Crown Heights, is a state-of-the-art research & treatment facility. The Brooklyn Children's Museum, first of its kind (another Brooklyn record!), receives over 500,000 visitors every year. Only a few minutes away, the Prospect Park / Grand Army Plaza complex showcases even more landmarks: the Brooklyn Museum of Art, the Brooklyn Botanic Garden, the Prospect Park recreational complex, and the main location of the Brooklyn Public Library.
For outdoor recreation, many residents head out to the majestic 585-acre Prospect Park. The park offers athletic equipment, free tours and concerts, community events, and much more. The park complex includes a 114-acre forest, a 90-acre meadow, the 52-acre Brooklyn Botanic Garden with over 10,000 species of plants, and dozens of other spectacular attractions.
Crown Heights is also the starting point for the annual West Indian Day Parade (aka the Caribbean Day Parade), the largest parade in New York City. The parade, which attracts over 3 million visitors and hundreds of street vendors, proceeds down Eastern Parkway, ending at Grand Army Plaza in neighboring Prospect Heights.
Overall, Crown Heights offers quite a lot of opportunities to potential residents and investors – great location, good stock of housing, excellent recreation and entertainment facilities, and several important landmarks. Thanks to the new policing methods, and improved integration of law-enforcement efforts with actions by the community groups, crime statistics are showing significant improvement. The NYC COMPSTAT reports a 30% drop in crime since 2001, and a whopping 72% decrease since 1993. Like many other NYC neighborhoods that have been hit by economic and cultural problems in the 70′s and 80′s, Crown Heights is improving steadily. Quality of life is up, crime is down, and investment/development opportunities are everywhere.
Sorry we are experiencing system issues. Please try again.