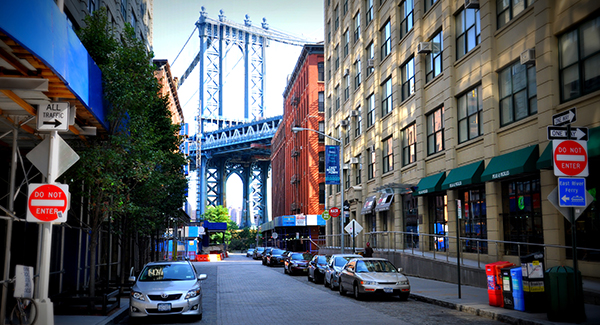 The neighborhood known as DUMBO (Down Under [The] Manhattan Bridge Overpass) is situated along the East River waterfront in northwest Brooklyn. Stretching from the Brooklyn Navy Yard to the Brooklyn Bridge (Old Fulton Street) and southward to Tillary Street, the fast-growing neighborhood includes the areas of Vinegar Hill and Fulton Ferry.
Considered by many to be "the next SoHo" (or "the next East Village"), DUMBO has stunning views, huge amounts of space within historic high-rise industrial buildings, a great community, and a very short commute to Manhattan. Recent development of this area has created hundreds of luxury condo units with great views, contributed to the rebirth of the artistic community, and driven businesses large and small to the growing neighborhood.
The vast majority of available real estate in DUMBO is in the form of condos and lofts. The neighborhood offers plenty of choices for would-be residents who wish to rent, lease, or purchase space outright. Detached townhouses are non-existent, but some multi-family properties can be found after a thorough search.
New retail establishments, cutting-edge art galleries and production studios, high-tech office space, hip cafes, and easy access to parks make this neighborhood attractive to many categories of real estate buyers. As a result, DUMBO has become a "bubble-proof" neighborhood within the "bubble-proof" city of New York, with prices rising steadily as buyers rush in to take advantage of investment opportunities.
Since the 1970′s, DUMBO has been an artists' enclave. With its inspiring views, low prices, and plenty of space, the neighborhood attracted musicians, painters, and performance artists of every stripe. Today, this amazing cultural diversity manifests itself in the form of festivals (such as Art Under The Bridge), unusual performance spaces (Bargemusic, a "concert hall" inside a barge moored at Fulton Ferry Landing), outdoor sculpture shows, and firm festivals in the waterfront parks. In nearby Brooklyn Navy Yard, a 15-acre site has been dedicated to the 280,000-square-foot Steiner Studios, an enterprise that has put Brooklyn back on the map of major motion picture production.
The neighborhood has a great selection of excellent cafes with live music, ice-cream shops, landmark Italian restaurants (Pete's Downtown), top-rated pizzerias (Grimaldi's), and unbelievable sweet shops (Jacques Torres Chocolate is a "Willy Wonka" experience and is worth the trip from anywhere).
A dazzling array of restaurants and bars is lined up along Atlantic Avenue, Court Street, and Cadman Plaza – Ben & Jerry's Ice Cream and Fuel Health Food, Middle Eastern gourmet at Tripoli and teriyaki specials at Samurai Sam's… and so much more. From a quick bite of an authentic Cuban sandwich at Habana Outpost to a long romantic dinner at one of the Italian bistros, you'll find your gourmet's paradise in DUMBO.
Driven by the exploding residential market, many home-related businesses have opened stores in the area. From the basics at ABC Carpet & Home Warehouse, to collectibles at Antiquarius Imports, to unusual furniture from West Elm, DUMBO residents can find an amazing selection of goods and services that help them make their new condo a real home. In addition to the dozens of stores lining DUMBO's streets, the Atlantic Terminal Mall offers an additional selection of over 50 stores, and the nearby Fulton Street Market completes the picture wil new stores, restaurants, and galleries.
DUMBO has one of the best public-transportation setups in the entire borough. The neighborhood is served by 6 bus lines that connect its residents almost immediately to the Atlantic-Pacific subway hub (11 train lines, over a dozen bus lines, LIRR platform) and the Court Street bus loop (11 bus lines). Located right next to the Manhattan and Brooklyn bridges, DUMBO offers drivers the convenience of a 5-minute ride into Manhattan. The Brooklyn-Queens Expressway (Route 278) passes through the area as well, providing a direct connection to Queens, Staten Island, and other parts of Brooklyn.

Sorry we are experiencing system issues. Please try again.