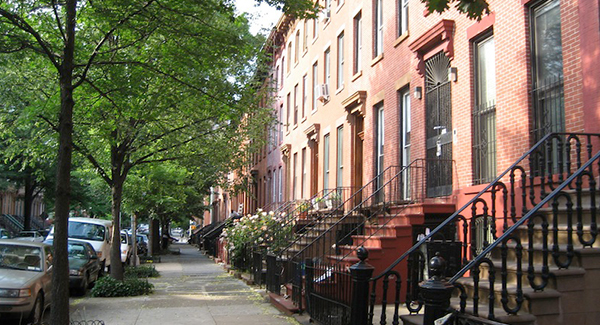 The Fort Greene/Clinton Hill area has always been a desirable neighborhood, due to its beautiful architecture and proximity to transportation. Fort Greene is located minutes away from the Brooklyn and Manhattan bridges, making it an easy commute to Manhattan. Public transportation is provided by 14 subway lines (2, 3, 4, 5, A, B, C, D, F, G, M, N, Q, and R), about 20 bus lines, and the LIRR. Although a small area geographically, it's packed with cultural and architectural treasures.
The centerpiece of the area is the 30-acre Fort Greene Park, which was designed by Frederick Law Olmsted and Calvert Vaux, and completed in the mid-19th century. The park features a playground and tennis courts, as well as the 148-foot-tall Prison Ship Martyrs' Monument. Nearby 10-acre Commodore J. Barry Park is the oldest park in the borough.
One of New York City's most famous cultural attractions is located in Fort Greene. The Brooklyn Academy of Music complex offers a variety of entertainment, including theater and opera performances, classic movies, and diverse dance programs. Across the plaza from the BAM is the world-renowned Mark Morris Dance Institution. A few blocks away, in Clinton Hill, is the Pratt Institute, one of the leading art schools, which offers programs in art, architecture, design, writing, and many other areas.
This area is also famous for an abundance of educational institutions. Several famous colleges are located here – the Brooklyn Law School, the Polytechnic University, and the Brooklyn campus of the LIU. The Pratt Institute, located in the heart of Clinton Hill, is one of the nation's leading design colleges. Historic public schools, such as Brooklyn Technical, St. Joseph High, and George Westinghouse High, as well as over 30 other schools, complete the picture.
Developed in the early 1900′s, this area features an astonishing variety of architecture. With brownstones and classic Victorian and French colonial houses, Neo-Grecian public buildings and ornate apartment houses, Fort Greene is an architectural treasure-house. The recent changes in zoning, and efforts by the community councils, have made the Fort Greene/Clinton Hill area even more vibrant and attractive.
Boosted by renovation of many existing brownstones and other low-rise residential space, and significant new condo development, the neighborhood's economy is exploding. New businesses are opening up along the main commercial corridors, among them art venues and production studios. The neighborhood is being used as a backdrop in major Hollywood motion pictures, as well as many independent studio productions. Spike Lee's studio, "40 Acres And A Mule Filmworks", is located right around the corner from Fillmore's Fort Greene/Clinton Hill office at 75 Lafayette Avenue.
A multitude of ethnic restaurants and cafes is lighting up the nightlife. Traditional commercial zones, such as Lafayette, Fulton, Myrtle, and DeKalb Avenues, are being converted into mixed-use corridors, providing space for small businesses as well as entertainment. Between the influx of business, the growing art community, and the expansion and restoration of living space, the quality of life and the neighborhood's economy are sure to grow for years to come.
Sorry we are experiencing system issues. Please try again.