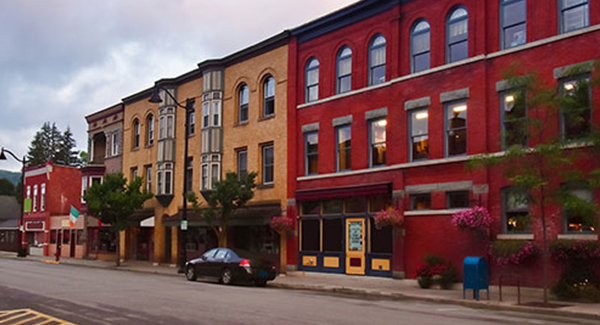 Madison is located in south-east Brooklyn, to the west of Marine Park. Madison borders Flatbush to the north (at Kings Highway), Marine Park to the east (at Nostrand Avenue), Sheepshead Bay to the south (at Avenue U), and Homecrest to the west (at Ocean Avenue).
Madison housing inventory follows a similar pattern to next-door Homecrest – 6-to-8-story apartment buildings along the avenues, one- and two-family homes on the inner streets. However, Madison also offers a selection of larger four-bedroom homes, mostly situated on large lots and featuring many original details. As well, attached brick rowhouse blocks can be found, with properties offering private yards and driveways.
In 2005, zoning was increased along Ocean Avenue, resulting in significant condo development. Several condo towers have already modernized the landscape, with more on the way. The zoning change offers prospective buyers even more options for housing in south-east Brooklyn, with affordable modern units located near shopping districts and public transportation.
Like many other southeast Brooklyn neighborhoods, Madison has a suburban feel, due to its location near Brooklyn's largest park, as well as being far enough from subway trains. The neighborhood's strong community, above-average schools, and excellent quality-of-life statistics reinforce the sense of tranquility.
Although the nearest subway line is 5 blocks away, the neighborhood is fully covered by local bus lines. Starting with the north side: Kings Highway is served by the B7 and B82 buses; Quentin Road (there's no "Avenue Q" in Brooklyn, don't be fooled by Broadway musicals) has the B100 which loops around the "Kings Highway" subway station and then goes into Mill Basin by way of the park; along Avenue R, the B2 is a convenient route to the Kings Plaza Mall, and the B31 goes directly to Gerritsen Beach; Avenue U has the B3, a link to the Q train in next-door Homecrest as well as the F and N trains in Bensonhurst. Nostrand Avenue's B44 takes you to the 2/5 subway line in Flatbush, and Ocean Avenue's B49 connects to the Sheepshead Bay waterfront district and the Kingsborough Community College in Manhattan Beach.
The shopping and dining selection in Madison is almost identical to next-door Homecrest – commercial districts are laid out along boundary avenues. Hundreds of stores and restaurants line up along Kings Highway, Ocean and Nostrand Avenues. The neighborhood's south boundary, Avenue U, is home to many smaller shops and a mix of restaurants and specialty bakeries.
For major shopping trips, residents of the Madison-Homecrest-Marine Park area visit the Kings Plaza Mall, on the other side of the park. The first indoor mall in New York City (1970), the recently-renovated complex includes a 1.1-million-square-foot facility with over 150 shops, a multiplex movie theater, and its own marina. The mall also serves as the starting point for 7 bus lines.
There are quite a few schools in the area, including Marine Park's P.S. 222, which is ranked in the top 1/3rd of schools citywide. The neighborhood's namesake high school, James Madison HS, is also a highly-ranked institution that provides special programs in art, law, administration, and management. Several other private and religious schools serve the area, giving parents plenty of choices for every stage of their children's education.
For recreation and relaxation, Madison residents have their choice of 3 locations – the William Kelly Memorial Park in next-door Homecrest, the James Madison HS fields, and the giant expanse of Marine Park. The Kelly Park features a cardiovascular fitness course, a safety-enhanced playground, basketball courts, and more. Marine Park features 798 acres of pristine greenery, sports equipment, a golf course, over a dozen ballfields, basketball and tennis courts, and much more.
Sorry we are experiencing system issues. Please try again.