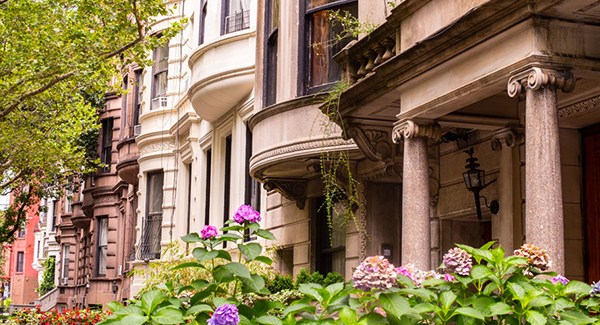 The neighborhood known as Park Slope was originally a single tract of land that belonged to the railroad financier Edwin C. Litchfield. The 585-acre Prospect Park was actually designed around the magnificent Italianate villa that Litchfield built. It sparked an architectural trend, and in the following decades, mansions and villas were built along Prospect Park West, as fast as technology allowed. The nearby blocks were filled with Romanesque-style townhouses, and rows of brownstones.
To this day, Prospect Park West and North Slope remain as some of the most desirable places to live in Downtown Brooklyn. Today, Litchfield's villa houses park administration offices, being a fine example of how beautiful architecture is preserved and put to best use in this neighborhood.
Park Slope stretches from Prospect Park West toward the Gowanus Canal, ending at 3rd Avenue, and is bounded by Flatbush Avenue to the north. The neighborhood's architecture consists mostly of three- and four-story brownstones, with some multi-unit housing along avenues in South Slope. Detached mansions can be found along Prospect Park West and in North Slope.
Two of the great attractions of this neighborhood are the busy shopping districts and the high-energy nightlife. The massive Atlantic Terminal Mall has over 50 stores, in addition to dozens of shops along Atlantic and Flatbush Avenues, the gigantic Fairway supermarket in nearby Red Hook, and thriving commercial corridors along 5th and 7th Avenues.
The neighborhood's main thoroughfares present a huge variety of restaurants, specialty food stores, and bars. Seventh Avenue alone has over 100 eateries (see partial list on Page 2 of this guide), featuring cuisine from around the world. As well, dozens of theme bars, nightclubs, and independent "performance spaces" provide entertainment for the sophisticated and artistically diverse Park Slope residents.
Park Slope's proximity to the Brooklyn and Manhattan Bridges, as well as the Brooklyn-Queens Expressway, means a relatively easy commute (Manhattan in 15 minutes, Staten Island in 30, assuming light traffic). Public transportation is abundant – the Atlantic Avenue / Pacific Street subway hub connects this neighborhood to the rest of NYC via 11 train lines (2, 3, 4, 5, B, D, F, M, N, R, and Q), the Long Island Rail Road platform, and dozens of bus lines.
Sorry we are experiencing system issues. Please try again.