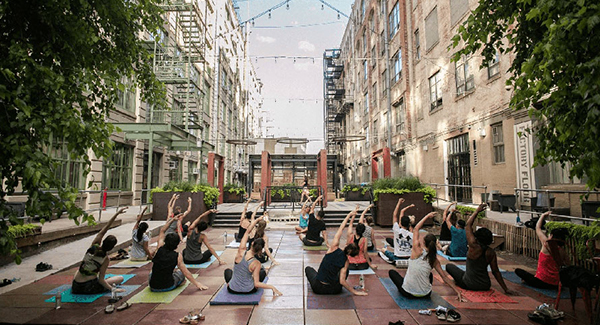 Sunset Park is located between Park Slope and Bay Ridge. Its borders are: 8th Avenue to the east, Upper New York Bay waterfront to the west, Prospect Expressway (Route 27) to the north, and 65th Street to the south. Greenwood Heights is a subset of Sunset Park, a roughly rectangular area extending from the cemetery park to the border of South Park Slope (5th Avenue and 20th Street).
Sunset Park's development started in the mid-1800′s, and continued through the 19th century. As a result, the architecture is classically graceful, with brownstone and limestone rowhouses dominating the character of the neighborhood. Brick and wood houses are seen here and there, as well as some high-density apartment buildings. Sunset Park is a great investment as well as a great place to live – the entire region between 4th and 7th Avenues and 38th to 64th Streets is classified as a historic landmark, making it the largest urban historic district in the northeast USA. As such, real estate in this area holds its value well, and the thriving economy assures the neighborhood's growth for decades to come.
Speaking of growth, the commercial corridors along 4th, 5th,, and 8th Avenues offer numerous opportunities for retail development. In the industrial heart of Sunset Park, the building known as "Federal Building #2" is being renovated, and will provide over 1 million square feet of space for use by small businesses. Numerous industrial and community-related projects are being implemented throughout the area, centering on the vast industrial spaces of Bush Terminal, South Brooklyn Marine Terminal, and the retail corridors. Sunset Park is growing steadily, and converting its vast equity of industrial buildings into active space for small businesses and transportation support bases. Unique solutions are being proposed and explored, including the construction of a cross-harbor rail tunnel, which will link the existing railways in Brooklyn directly to the New Jersey rail system, providing a direct route to New Jersey that bypasses Manhattan's congestion.
The neighborhood also features one of the most varied restaurant selections in NYC. Brooklyn's own Chinatown, along 8th Avenue, features over 20 blocks of Chinese, Vietnamese, Malaysian, and other Asian restaurants. Street vendors offer fresh fish, meat, produce, and exotic spices. A few blocks away, Fifth Avenue is home to a variety of Spanish and Latin-American restaurants, including excellent taquerias and tapas bars.
Greenwood Cemetery, the 478-acre historic treasure of Sunset Park, offers over 20 miles of winding paths, rolling hills, and picturesque lakes. Within Greenwood, the Battle Hill site offers a direct view of the Statue of Liberty. Although not as large, Greenwood is more than a match for Central Park, in beauty and serenity. This is not such a surprise, actually, considering that the same architects who built Central Park, Frederick Law Olmsted and Calvert Vaux, designed Greenwood. Besides Greenwood, there are several parks, including the 24.5-acre Sunset Park, the Owls Head Park, Shore Road Park, McKinley Park, and the Leif Eriksen Park and Square.
Only a couple of miles away, the spectacular 585-acre Prospect Park complex offers lakefront views, tennis courts, an ice-skating rink, jogging trails, Brooklyn's only forest (150 acres of multi-species trees), the Prospect Park Zoo, the Brooklyn Botanic Garden, and much more. Right next to the Prospect Park, the Grand Army Plaza complex includes the historic Soldiers and Sailors Arch monument, the main branch of the Brooklyn Public Library, the Brooklyn Museum of Art, and several other cultural landmarks throughout the area.
Sunset Park is not missing out on transportation options, either. The Gowanus Expressway and the BQE provide high-speed access to Manhattan and Staten Island; a ferry takes you across the bay to New Jersey, avoiding the Manhattan traffic; and the D, M, N, and R subway lines provide a connection to the nearby Atlantic-Pacific subway hub, with its 11 subway lines and a LIRR platform. Bus service is provided by the 1, 9, 11, 35, 37, 63, and 70 routes, as well as express X27, X28, X37, and X38 buses to Manhattan via Red Hook and the Brooklyn Battery Tunnel.

Sorry we are experiencing system issues. Please try again.